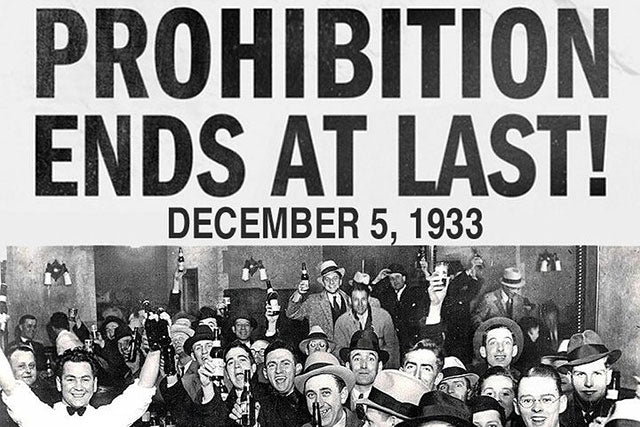 Celebrate Your Constitutional Right to Drink with Wm. Tarr Distillery
Insiders relish the day Americans regained their freedom to consume alcohol
On January 16, 1919, the 18th Amendment to the United States Constitution passed, making all production and consumption of alcohol illegal. So began Prohibition, widely known as one of the darkest periods in American history. Crime, drunkenness, and distrust for the government ran rampant in the U.S., and some people saw no way out.
Wm. Tarr Distillery, founded in 1865 in Lexington, KY as the Ashland Distillery, struggled immensely during this time. On a cold March night in 1920, a group of thieves raided their warehouses and stole over $20,000 worth of golden Tarr bourbon and whiskey. The alcohol was subsequently moved and some factories were burned before William Tarr later shut its doors for good.
On December 5, 1933, the 21st Amendment was ratified, making alcohol once again legal in the United States. Celebrations rang out across the nation.
The 5th of December is now celebrated in bars and homes across America as Repeal Day, a term trademarked by the Museum of the American Cocktail.
In a year filled with turmoil, in part due to the COVID-19 pandemic, our founders revived Lexington's first federally-registered distillery. In recognition of the historic and accomplished distillery, the enterprise is named RD1 and does business as Wm. Tarr Distillery. RD numbers were later replaced by DSPs.
Ironically, our freedoms have again been curtailed, limiting where we can consume alcohol as bars and restaurant operations have been reduced to slow the virus' spread. Thanks to the 21st Amendment, we still have the freedom to consume alcohol, and sales of our two exquisite products are booming across the state.
Old Wm. Tarr Manchester Reserve is a blend of 7-year bourbon and 8-year rye whiskey, and it is flying off retail liquor store shelves across Kentucky. Old Wm. Tarr Inheritance is a limited-release 12-year small batch bourbon, also available in a single barrel variety, known as 'Founders' Choice.' Both products are available for purchase on our website with curbside pickup.
Join us and others across the nation in raising a glass of America's native spirit, bourbon or whiskey, on Repeal Day.
Cheers!