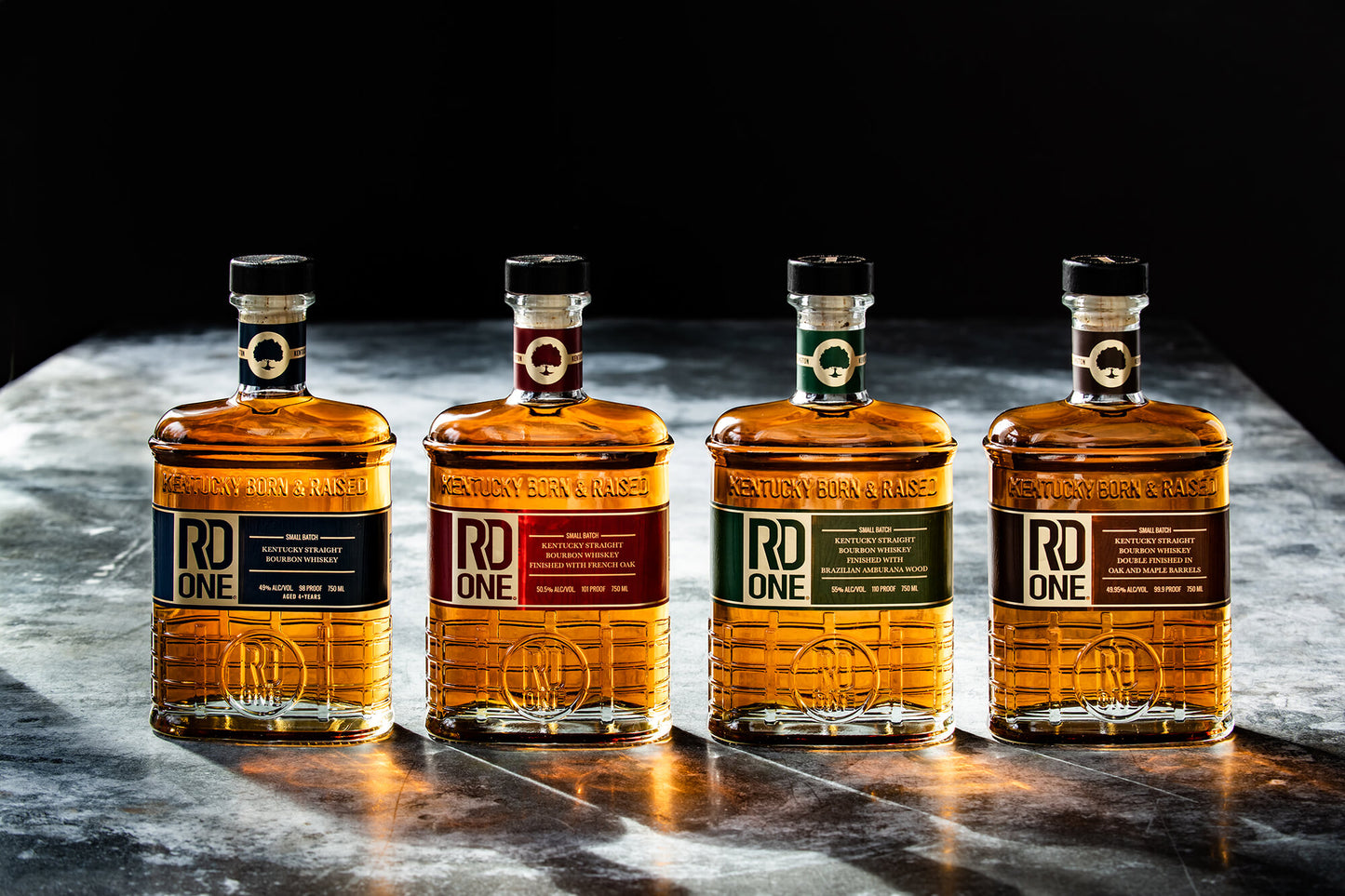 RD1 Spirits Expands Portfolio with Two Unique Wood-Finished Bourbons
New Bottle Packaging Honors Lexington's First Registered Distillery
LEXINGTON, Ky. (April 12, 2023) – RD1 Spirits announces the first expansion of its Kentucky Straight Bourbon portfolio in an effort to continue writing the next chapter of Lexington bourbon.
RD1's 110-proof Kentucky Straight Bourbon Whiskey Finished With Brazilian Amburana Wood and its 99.9-proof Kentucky Straight Bourbon Whiskey Double Finished In Oak and Maple Barrels join the two RD1 bourbons released in October 2022 (98-proof Kentucky Straight Bourbon Whiskey and 101-proof Kentucky Straight Bourbon Finished With French Oak.)
"RD1 is bent by curiosity to explore bourbon's potential," said Mike Tetterton, chief executive officer of RD1 Spirits, which was founded in 2020 to celebrate meaningful firsts in our lives. The RD1 brand pays tribute to Lexington's first federally registered distillery, given the distinction of RD#1 in 1865. "RD1's new wood-finished expressions can be summarized as classic Kentucky Straight Bourbon meets 'what's next.' The end result is a unique tasting experience that allows you to explore your palate and, what we like to call, the bourbon frontier."
RD1's Small Batch Kentucky Straight Bourbon portfolio was crafted by 8th-generation Master Distiller Jacob Call, and also aged and bottled in the state. Within its portfolio, the now three wood-finished expressions all have the same base bourbon, which aged for at least four years. 
The three expressions then spent up to several months aging with wood staves or wood blocks placed inside the barrel. RD1 finished "to taste" with the goal of delivering a unique and memorable tasting experience.
RD1 Kentucky Straight Bourbon Whiskey Finished with Brazilian Amburana Wood
(55% ALC/VOL, 110 Proof, 750 ML)
o    About: Amburana, known as "Brazilian Oak", is often used in South America for making essential oils, crafting luxury furniture, and barrel aging Brazil's most popular spirit, Cachaça.
o    Wood Finishing: RD1's partner cooperage uses a patented technique to honeycomb drill small holes into the Amburana staves, allowing more wood surface interaction with the bourbon.
o    Nose: The best of baking spices - apple cinnamon, nutmeg and light brown sugar - are followed by pine, vanilla, peaches, and apricots
o    Taste: Flavor galore with spice cake and gingersnaps in a rich mouthfeel
o    Finish: Long and warm, ending with allspice and sweet oak
RD1 Kentucky Straight Bourbon Whiskey Double Finished In Oak and Maple Barrels 
(49.95% ALC/VOL, 99.9 Proof, 750 ML)
o    Wood Finishing: The French Oak staves (first finish) are steeped in a patented process of pressure, oxygen, time and temperature with maple syrup (second finish). The molecular transfusion into the base fibers of the wood is artistic and intense.
o    Nose: An undeniable burst of maple and butterscotch followed by lightly toasted caramel, roasted pecans and paprika
o    Taste: A delicate dance of maple and black peppercorn spice
o    Finish: Long, smooth and spicy with a light accent of toasted caramel at the end
RD1 Bottle Packaging 
RD1 bourbon is presented in a custom glass bottle and label that honors Lexington's first bourbon entrepreneurs and the brands they produced. The tree on the neck label gives a nod to Ashland Distillery, and "Kentucky Born & Raised" appears in etched glass, similar to the original etching of the Old Tarr bottle. 
RD1 bridges to the future with a modern, concave bottle shape, featuring a fence design of etched glass around the base, representing Lexington's iconic horse farms. The cork and back label reinforce the powerful story of the first. 
History & Growth
In 2020, RD1 unveiled a limited whiskey release called Old Wm. Tarr to pay tribute to one of the pioneers of Lexington's first registered distillery. This Manchester Reserve - a blend of 8-year-old rye and 7-year-old bourbon - was released at 96.4 proof and 114 proof (the latter winning Double Platinum in the 2022 ASCOT Awards and Platinum in the 2021 Las Vegas Global Spirits Awards). Limited bottles remain at select stores in Kentucky and at the RD1 Tasting Room on Manchester Street in Lexington.
RD1 has aggressive growth plans with a goal to be distributed in ten states by year end. Currently, RD1 is available in Kentucky and Indiana.
About RD1 Spirits
Based in Lexington, Kentucky, RD1 Spirits exists to explore the bourbon frontier. Lexington entrepreneurs founded the company in 2020 to help give life to the stories of Lexington's bourbon firsts, namely its firstfederally registered distillery, established in 1865. RD1 is paving its own path, focusing on Kentucky Straight Bourbon and its interaction with various wood finishings in the barrel. For more information on this growing brand, visit RD1spirits.com or follow @RD1spirits on Facebook and Instagram.