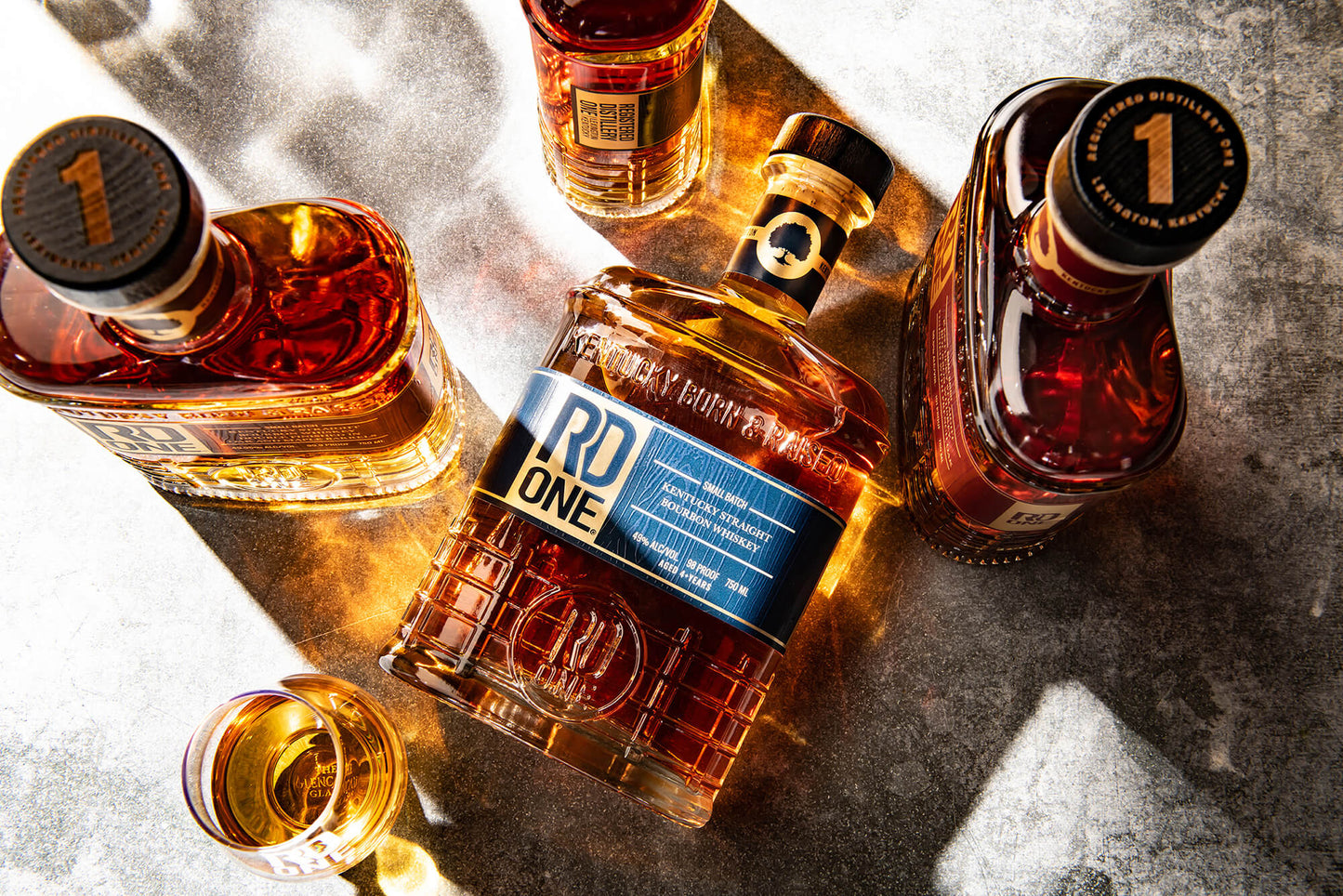 RD1 Spirits Add Five More States to U.S. Distribution
Growing craft bourbon brand earns 18 industry awards this summer
LEXINGTON, Ky. (August 17, 2023) – RD1 Spirits, an award-winning Lexington-based bourbon brand, marks the next step in its growth plan with the addition of five states — Nevada,Massachusetts, Texas, Florida and Louisiana — to its distribution footprint. With this expansion, RD1 bourbon is now available for purchase in ten states (others including Kentucky, Indiana, Wisconsin, Michigan and Missouri).
"RD1 has had an exciting year so far, reaching new milestones and earning top industry awards," said Mike Tetterton, chief executive officer of RD1 Spirits. "The consumer reception to our brand has been nothing short of fantastic. Now, we look forward to giving whiskey fans in even more states the opportunity to explore the bourbon frontier with RD1's Kentucky Straight Bourbon and unique wood finishings."
Further validating the brand, RD1 earned the following 18 distinguished awards in June and July, bringing its 2023 total to 28 platinum and gold-tasting awards across its portfolio.
RD1 Small Batch Kentucky Straight Bourbon Whiskey, 49% ALC/VOL, 98 proof, is a traditional Bluegrass bourbon with notes of orange and honeyed caramel that finishes dry with a spicy hint of ginger and cinnamon. Since May, it has earned:
RD1 Kentucky Straight Bourbon Whiskey Finished with French Oak, 50.5% ALC/VOL, 101 proof, is an elegant bourbon with flavors of caramel, dark cherries, and sweet oak, and has earned:
RD1 Kentucky Straight Bourbon Whiskey Finished with Brazilian Amburana Wood, 55% ALC/VOL, 110 Proof, has flavors of spice cake and ginger snaps with a long and warm finish. It has recently earned:
RD1 Kentucky Straight Bourbon Whiskey Double Finished in Oak and Maple Barrels, 49.95% ALC/VOL, 99.9 Proof, is finished with French Oak staves that have been steeped in maple syrup, resulting in a delicate dance of maple and black peppercorn spice with a light accent of toasted caramel at the end. Since late May, it has earned:  
RD1 Spirits is now a distillery stop on the Kentucky Bourbon Trail Craft Tour®. Located at 1170 Manchester St. in Lexington, Ky., the RD1 Tasting Room and Gift Shop is open Monday - Saturday from 10 a.m. - 5 p.m., and Sunday from noon - 5 p.m. Guests are encouraged to book tastings online at rd1spirits.com, although walk-ins are always welcome.
About RD1 Spirits
Based in Lexington, Kentucky, RD1 Spirits exists to explore the bourbon frontier. Lexington entrepreneurs founded the company in 2020 to help give life to the stories of Lexington's bourbon firsts, namely its first federally registered distillery, established in 1865. RD1 is paving its own path, focusing on Kentucky Straight Bourbon and its interaction with various wood finishings in the barrel. For more information on this growing brand, visit RD1spirits.com or follow @RD1spirits on Facebook and Instagram.