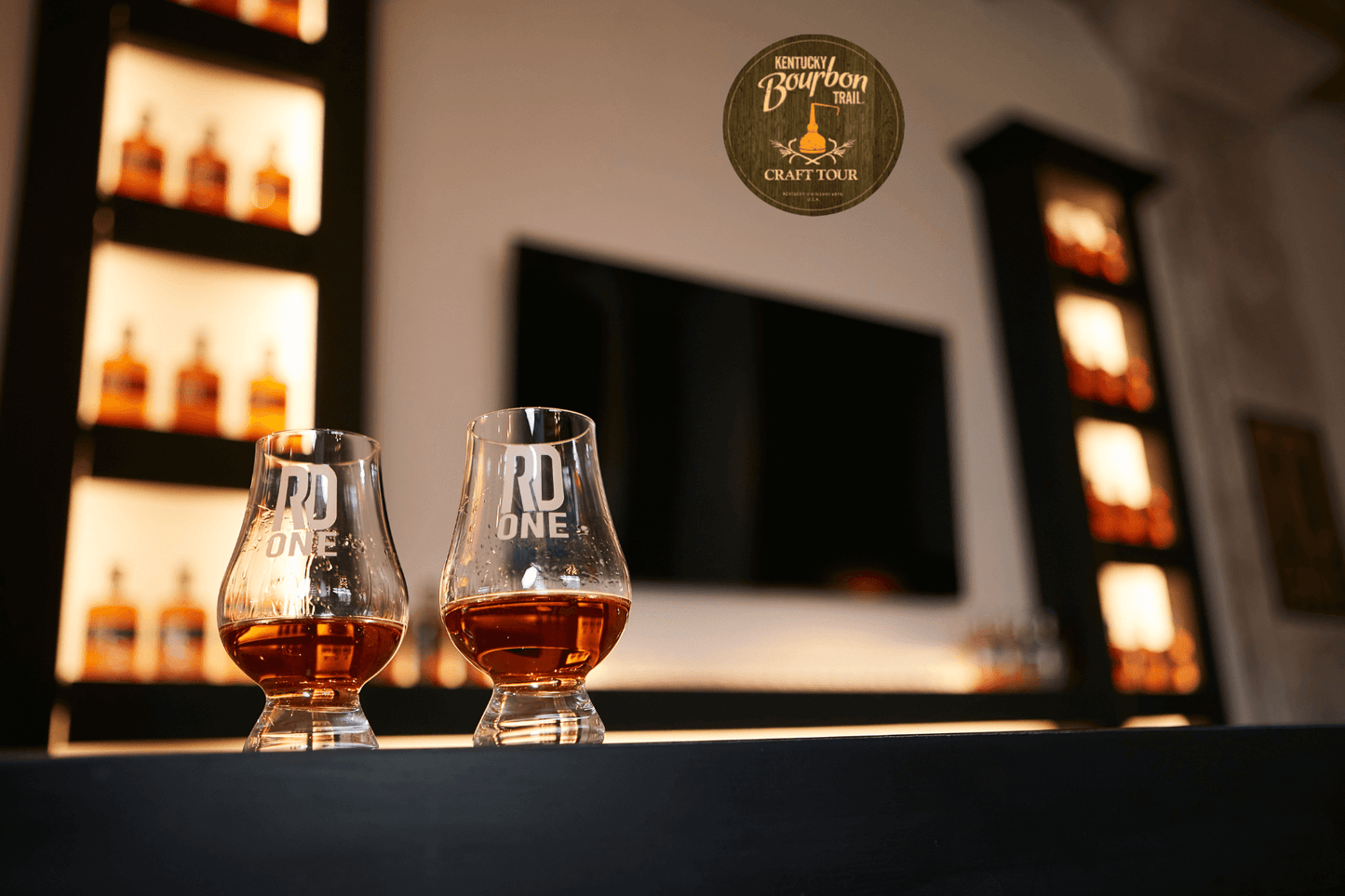 RD1 Spirits Named to Kentucky Bourbon Trail Craft Tour
Award-winning Lexington brand invites trail visitors to explore the bourbon frontier with wood-finished expressions
LEXINGTON, Ky. (July 31, 2023) – Award-winning, Lexington-based bourbon brand RD1 Spirits is proud to announce it has been named to the Kentucky Bourbon Trail Craft Tour®. The RD1 Tasting Room and Gift Shop is in Lexington's Distillery District and offers $12 flight tastings of the brand's portfolio of Kentucky Straight Bourbon and other wood-finished expressions. 
This past week, RD1 was one of four distilleries recognized with this honor, which represents the largest expansion of the Kentucky Bourbon Trail Craft Tour to date. Founded by the Kentucky Distillers' Association in 2012, the Kentucky Bourbon Trail Craft Tour now spotlights 28 distillers throughout four regions of the state. (RD1 joins the Tour's Bluegrass Region.) Tourists can now visit a total of 46 immersive bourbon experiences in Kentucky, including the 18-larger scale distilleries, which are part of the Kentucky Bourbon Trail®.
"RD1 was founded in 2020 to help keep alive the stories of Lexington's bourbon firsts like the first federally registered distillery in 1865," said Mike Tetterton, chief executive officer of RD1 Spirits. "Today, being named part of the Kentucky Bourbon Trail Craft Tour gives us an additional platform to invite consumers to explore not only bourbon history, but also what's next on the bourbon frontier with wood finishing."
At the RD1 Tasting Room and Gift Shop, guests will hear stories of Lexington's Ashland and Old William Tarr Distilleries from the late 1800s and learn about modern-day innovation of wood finishing in barrel, asking "what else can bourbon do?" 
Guests will enjoy a unique sensory tasting experience of RD1's four award-winning bourbons – Kentucky Straight Bourbon Whiskey and three wood-finished bourbons (French Oak, Amburana, and Oak and Maple). Guests also have the opportunity to sip a craft cocktail, thief whiskey from the barrel, and sign a barrel head with the name of the one who has been an influential and positive role model.
"We are entrepreneurs in bourbon; our background is in the hospitality industry," Tetterton said. "So we look at the Tasting Room as a true entertainment venue. Our goal is for guests to leave talking about what they learned, what they tasted, what they experienced. For us, that starts with captivating stories around bourbon and building relationships with our guests."  
The RD1 Tasting Room and Gift Shop, located at 1170 Manchester St, Suite 190, Lexington, Ky., is open Monday - Saturday from 10 am - 5 pm, and Sunday noon - 5 pm. Guests are encouraged to book tastings online at rd1spirits.com, although walk-ins are always welcome.
About RD1 Spirits
Based in Lexington, Kentucky, RD1 Spirits exists to explore the bourbon frontier. Lexington entrepreneurs founded the company in 2020 to help give life to the stories of Lexington's bourbon firsts, namely its first federally registered distillery, established in 1865. RD1 is paving its own path, focusing on Kentucky Straight Bourbon and its interaction with various wood finishings in the barrel. For more information on this growing brand, visit RD1spirits.com or follow @RD1spirits on Facebook and Instagram.